WE'RE RETHINKING DRINKING
It's about connection, conversation, flavor and ritual. Alcohol is optional. Bring your own buzz.
A BOTANICAL LOVE LETTER TO LOS ANGELES
↧
ALL SPIRIT, NO LIQUOR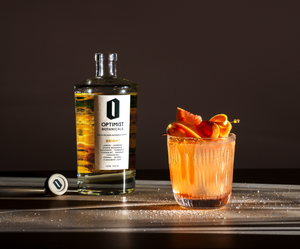 Bright
Taste: Citrus, Sherbert, Salty Sunshine.
Drinks Like: A citrusy Vodka.
Key Botanicals: Lemon, Jasmine, Green Mandarin, Lavender, Turmeric, Cornmint, Orange, Tangerine, Fennel, Myrrh, Cinnamon Leaf. 
Inspiration: Venice Beach. Stepping out of the hazy summer sunshine, skin warm and salty, then stepping under a cool outdoor shower by a lemon tree.
Shop ↦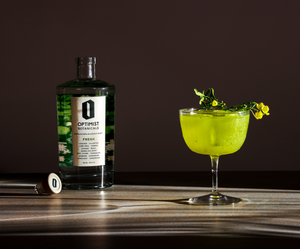 Fresh
Taste: Wild herbs, Anise, Fresh Canyon Air.
Drinks Like: An abundantly botanical Gin.
Key Botanicals: Juniper, Cilantro, Lime Peel, Fennel, Lovage, Basil, Angelica Root, Red Thyme, Tarragon, Jasmine, Habanero, Oregano, Tangerine.
Inspiration: Topanga Canyon. Later afternoon after a downpour, the sun breaks through and a rush of clear, clean air rises up from nature.
Shop ↦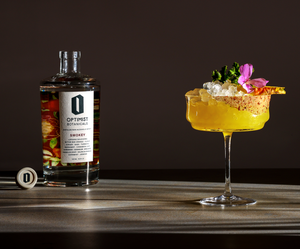 Smokey
Taste: Bonfire, Bittersweet, Spice.
Drinks Like: A smooth Tequila.
Key Botanicals: Lapsang Souchong, Bitter Red Orange, Clove, Ginger, Ginger, Sage, Bergamot, Cinnamon Leaf, Habanero, Geranium, Oregano, Angelica Root, Valencia Orange, Cornmint.
Inspiration: High Desert, Yucca. Sunset; the vast dispersed energy of the sky is compressed into the playful energy of the dark space of the evening. Lively, warm, intense.
Shop ↦
Optimist in the Making
The three flavor profiles of OPTIMIST Botanicals draw inspiration from the varied landscapes of Los Angeles and its environs - salt-sprayed coastlines, verdant canyons, and arid deserts - as well as the diverse cultures that makes this city so unique. 
Our blends were developed over a year and a half, working with a master distiller, chefs, food writers, some close friends and drinks aficionados. Several distillation and extraction techniques are used, none of which involve alcohol. This proprietorial combination of contemporary alchemical methods extract the true botanical 'spirit', the very best out of each ingredient.
OPTIMIST, INSPIRIT.

(verb: encourage, enliven)
The balanced blends take you on a sensory journey with notes of citrus and herbs, flowers and spices lending structure. There are between ten and fifteen botanicals in each flavor, and each batch is carefully crafted without alcohol, sugar, calories, or additives.
DRINKS INSPIRATION
Our Spirits are designed to be mixed, you can keep it simple with some sparkling water or a good tonic, or use them as a non-alcoholic ingredient to a cocktail. We're always making new drinks, keep coming back for more drink recipes.