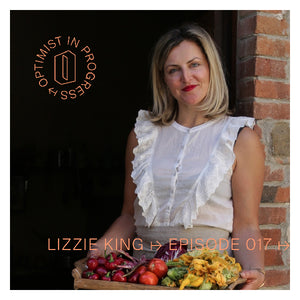 Day 17 ↥ In conversation with Lizzie King | Connecting with people and planet through food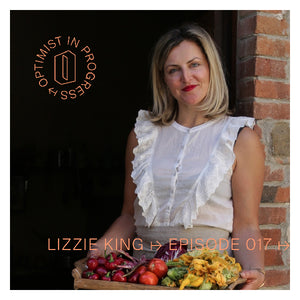 Whilst she may not recognise herself as an optimist ("rainbows and ponies?"), the work that UK-based food writer, nutritional coach and entrepreneur Lizzie King is doing to educate people about how to 'eat well' in every sense certainly demonstrates an inherent commitment to building a better future for people and planet. Raised in a family of obsessive "foodies", long summers spent in Tuscany had a huge influence on shaping Lizzie's understanding of farming, seasonality, ingredients, and the importance of sharing the experience of preparing, cooking and eating together with your people, whoever that might be. 
In Ep 17 of the Optimist in Progress podcast Lizzie explains to Drea and Tom why how staring at screens make you eat more, the role your gut plays in producing serotonin (the hormone that creates a sense of well-being), and why the chore of chopping is an opportunity to practice mindfulness. Knives at the ready.
Try this Lizzie Loves... Kale-Pecorino salad recipe to get yourself chopping, prepping, hosting...
Order a copy of LIzzie's book (US)
Further reading: Earthed by Rebecca Schiller