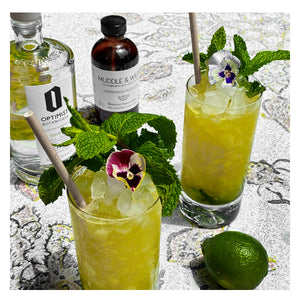 Day 10 ↥ Drink Recipe | Connecting with people + place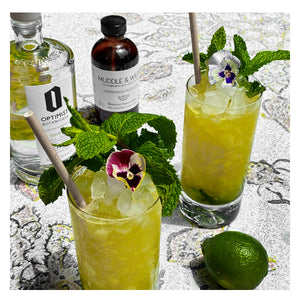 Over the past year, with our favorite bars and restaurants closed, and parties the stuff of memories and dreamscapes, most of us found our way back to the kitchen and the bar cart (or corner).  We've been mixing a lot of cocktail creations for ourselves and our bubble dwellers, but it feels like time to start inviting a few more people over to sip on some deliciousness. Rebuilding those connections and relationships that were almost frozen in time, and creating some new relationships as we look beyond our four walls.
Topanga is one of our favorite places in LA, idyllic canyon vibes, striking landscape, 360° nature and our favorite surf break at the bottom of the hill. It's also where Muddle & Wilde create their aromatic elixirs, which happen to pair beautifully with OPTIMIST Botanicals. Our new friends came up with something beautiful  to sip on that we wanted to share with you. SO you can share with your friends (old and new).
A BRIGHT RAPPORT
0.5oz Muddle & Wilde Lemongrass-Ginger-Lime
2oz OPTIMIST Bright
2oz fresh pineapple juice
1oz fresh lime juice
6 mint leaves
In a tall glass, muddle the mint with the Muddle & Wild syrup). Add OPTIMIST Bright and fruit juices, and mix. Fill the glass to the brim with crushed ice. Garnish with fresh mint (or a beautiful bloom) and share with someone you haven't seen in a while.