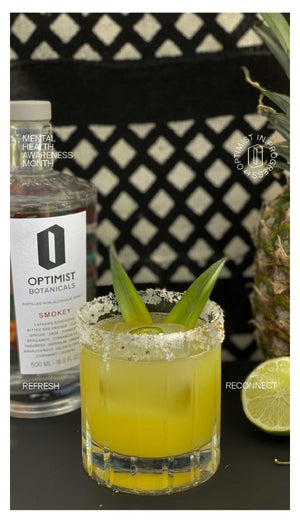 Day 3 ↥ Rethinking routines | Connecting with yourself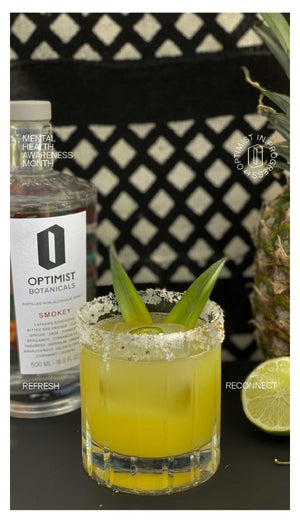 Today, we're spending a moment thinking about what we do routinely, often unthinkingly.  Morning coffee,  end of day wine,  weekend cocktails. Jittery and a little jaded much? 
As we become a little more conscious, maybe good to turn our attention to our daily habits. 
This year many of us have used alcohol as a crutch, or as a way to delineate work day from evening (or weekend), and as we go back into society, there are also no doubt many celebratory drinks ahead (will it help with the awkwardness?).  
Today is Cinco de Maio, a holiday that barely registers in Mexico (though they certainly celebrate hard in Puebla, where the Mexican troops beat back Napolean's men to claim victory on the 5th May, 1862) 
We celebrate it in LA with great enthusiasm, and that usually means sipping on margaritas and filling our faces with tacos.  
We wanted to offer up an OPTIMIST take on a Margarita, smokey overtones, sweet with pineapple, sharp with lime and spicy with serrano. Zero proof, zero hangover. 
Salud!