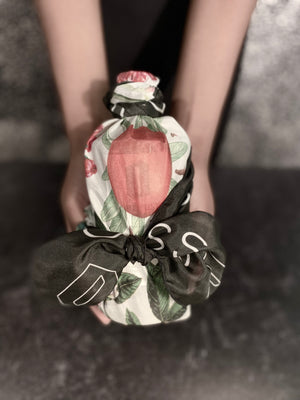 FUROSHIKI, THE JAPANESE ART OF GIFT WRAPPING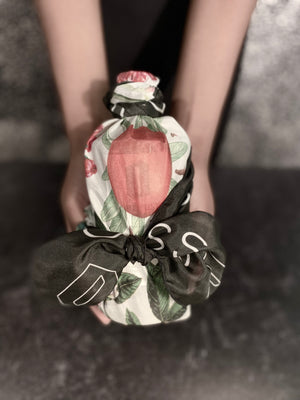 At OPTIMIST all our decisions are guided by our commitment to the planet - reducing, repurposing and upcycling - and we have long been fans of Japanese furoshiki wrapping as an elegant and eco alternative to all that paper and fussy gift packaging.
This gifting season, we asked LA-based designer, Jenny Araskog-Gent, to create a limited edition pure silk scarf, using our botanical illustrations.  
Our OPTIMIST IN PROGRESS hand-finished (and of course ethically-made in NA) scarf is the perfect way for you to furoshiki wrap a bottle of OPTIMIST this gifting season, but it obviously doesn't stop there. 
It is also the perfect compliment to festive cocktail attire, and it will quickly find its way around the shoulders or elegant neck of the lucky recipient.  A gift in a gift? Oh, you shouldn't have!
We also like to wear ours as a face covering ('tis still the season…)
---
HOW TO FUROSHIKI THAT BOTTLE – 4 EASY STEPS
Place the bottle at the centre of the laid out silk scarf

Draw up two corners and loosely double knot

Cross the other two corner behind the bottle, bring them to the front and tie

Untie top knot once, re-tie around the neck and tuck.